Okay, that doesn't look as nice as this finished product
Janalyn
shows you at her
Etsy shop
where you can buy the embroidery design shown in the top photo.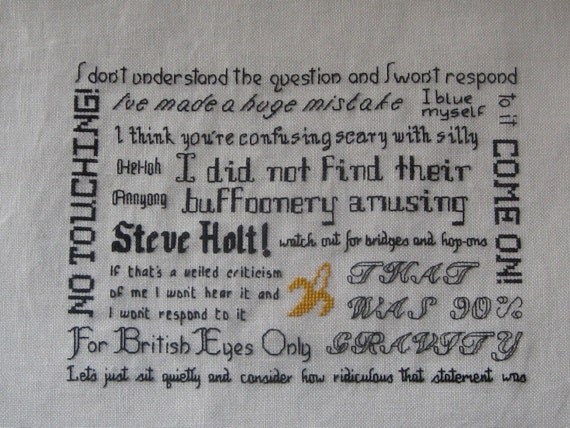 It's only $5! No, I'm not making anything off this--just a huge fan of
Arrested Development
who is so glad that Netflix produced another season. Yay, Netflix! And while we are talking about Netflix, you have got to watch
Orange is the New Black
. With these two series and
House of Cards
, Netflix is fast becoming my favorite place for television watching. Oh, and yay, Janalyn for making this available.
So far, I've done:
I have a good reason, though. I accidently ordered the pvc pipe frame for embroidering it from Overstock instead of Amazon. I plead temporary insanity. I could have purchased it for less, gotten free shipping (I have Amazon Prime), and quick delivery if I had ordered from Amazon. Instead, I ordered from Overstock. Here I sit, a week and a half later, still waiting for it to arrive. The mail carrier has already been here, so it won't be arriving today. Yeah, Overstock shipped using the U. S. Postal Service. And, yeah, it's gonna be a while.